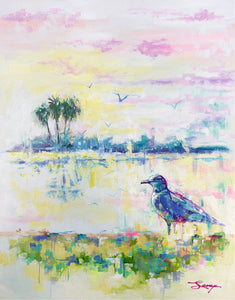 Day Five Art Gallery
The Parishioner
Regular price
$1,500.00
$0.00
24"x30"
Acrylic on canvas - framed white
Recently I had someone tell me that they didn't need to go to church. They believed that they could have church anywhere because Jesus lives in their heart. During the lock down period of the pandemic we have all heard someone make this statement or perhaps you have said it yourself. I confess, I too, have had moments in my life where I have been guilty of thinking I didn't need to attend church. Truth be told, God made us for community. That's why he gave Eve to Adam.
Our trip to Israel birthed new lessons from the LORD. One being on charity. As we traveled together I witnessed moments when we shared laughs, we shared snacks, we shared tears, we shared stories,  we shared songs, we even shared differences. But more importantly we shared the love of a Savior that wrote His story on our hearts and lives. We shared the commonality of how Jesus saved us from the bleak way we were once living, to Him setting our hearts ablaze to share the Gospel through the way we live our daily lives today.
After 13 days trekking through the Holy Land with my brothers and sisters in Christ and learning more about Jesus's ministry - I better understand Colossians 3 when it teaches us about bearing with our fellow believers or in James where it says to help your brothers and sisters in their stumbling or in 1 Corinthians where it says we are not greater than one another but instead we are God's field growing together.
For any of us to arrive in understanding of community we need to fully witness the charity of God as well as the charity in His field.
The visual of charity came into focus for me was when we were in Capernium - The Town of Jesus. It is where friends of a paralytic man lowered their dear friend through the roof so that the Messiah may heal him. Now they have glass over the top of the preserved site to give you a sense of the friends and the paralytic man's point of view. As I sat there praying a text dinged my phone. It was a dear friend reaching out for prayer. A mutual friend of ours was rushed to the hospital due to an abnormal life threatening issue with his heart. I immediately prayed for my friend in thoughts that we were all spiritually in prayer dropping him down through that roof. Jesus didn't fail to hear our prayers that day and since then He has healed our friend.
So in closing, may this image adjust our thoughts away from being a lone parishioner and instead draw us closer to the father who heals us through his son so that we can commune with the spirit being knitted together in love with one another.
Oh what blessing's hidden in the body of Christ we miss out on when we stand as a lone parishioner!
Psalm 133:1
How good and how pleasing is it for brothers and sisters in Christ to live together as one.
---
More from this collection