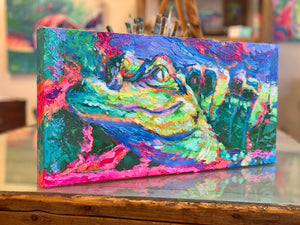 Day Five Art Gallery
If By The Spirit
Regular price
$350.00
$0.00
10x20 Acrylic on Canvas 

Ed Welch, in preparation for his book called A Banquet in the Grave said,
There is a mean streak to authentic self-control. . . . Self-control is not for the timid. When we want to grow in it, not only do we nurture an exuberance for Jesus Christ, we also demand of ourselves a hatred for sin. . . . The only possible attitude toward out-of-control desire is a declaration of all-out war. . . . There is something about war that sharpens the senses . . . You hear a twig snap or the rustling of leaves and you are in attack mode. Someone coughs and you are ready to pull the trigger. Even after days of little or no sleep, war keeps us vigilant.
There is a mean, violent streak in the true Christian life! But violence against whom, or what? Not other people. It's a violence against all the impulses in us that would be violent to other people. It's a violence against all the impulses in our own selves that would make peace with our own sin and settle in with a peacetime mentality. It's a violence against all lust in ourselves, and enslaving desires for food or caffeine or sugar or chocolate or alcohol or pornography or money or the praise of men and the approval of others or power or fame. It's violence against the impulses in our own soul toward racism and sluggish indifference to injustice and poverty and abortion.
Christianity is not a settle-in-and-live-at-peace-with-this-world-the-way-it-is kind of religion. If by the Spirit you kill the deeds of your own body, you will live. Christianity is war — on our own sinful impulses.
Copied from Desiring God.org
---
More from this collection