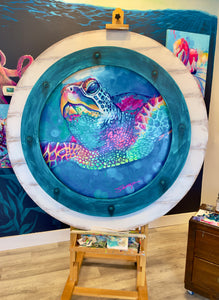 Day Five Art Gallery
Let the sonshine in
Regular price
$3,250.00
$0.00
"Why should he fret when God smiles? What matters though all the world should censure, if Jehovah countenances his servant. A look of approval from God creates a deep, delightful calm within the soul." (Spurgeon)

Psalm 67 says, "May God be merciful and bless us. May his face smile with favor on us. May your ways be known throughout the earth, your saving power among people everywhere. May the nations praise you, O God. Yes, may all the nations praise you. Let the whole world sing for joy because you govern the nations with justice and guide the people of the whole world. Interlude May the nations praise you, O God. Yes, may all the nations praise you. Then the earth will yield its harvests, and God, our God, will richly bless us. Yes, God will bless us, and people worldwide will fear him."
‭‭Psalms‬ ‭67‬:‭1‬-‭7‬ ‭NLT‬‬

The porthole is a window we look out of, as is art. We peer into what the artist sees. As I painted this soulful turtle, I placed him in an ethereal state, like he was floating in a calm space with a view of the sun shining from above. It shines on his face. As we read Psalm 67, I look through another window, the window of an ancient Hebrew poet and musician that leads us all into a soulful state. A calm place of reflection where he grants us a blessing that the Lord from above will shine His face upon us. The Lord is the Lord of light, the Lord who wants to give us His favor if we only let Him in. When we do this, He, the master artist, creates art beyond anything here on earth—a deep calm.
---
More from this collection