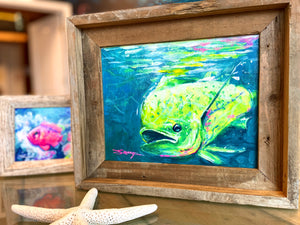 Day Five Art Gallery
Inclusion
Regular price
$250.00
$0.00
The story found in Luke 8:19-21 tells us about Jesus' Mother and Brothers. 
19 Then his mother and his brothers came to him, but they could not reach him because of the crowd. 20 And he was told, "Your mother and your brothers are standing outside, desiring to see you." 21 But he answered them, "My mother and my brothers are those who hear the word of God and obey it."
For the longest time when I read this passage I thought it had a flavor of exclusion. If our family was waiting for us outside, more than likely any of us would have gotten up to greet them inviting them inside. But Jesus didn't move from his position. I finished this Mahi painting today before I headed out to the weekly guys Bible study I attend. We were talking about this story when I shared my thoughts that perhaps it's not exclusion but inclusion Jesus was teaching. He wants us to know that we draw closer to Him by reading His Word and doing it. This drawing near creates an intimacy far greater than any we will experience with our own family members. An invitation available to all. 
---
More from this collection