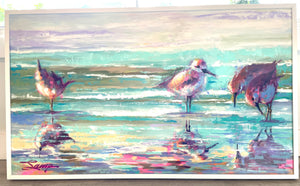 Day Five Art Gallery
Desire Less
Regular price
$2,750.00
$0.00
28x48 Acrylic on Board, Framed
Just the other day I overheard my wife praying aloud. As her words made its way into the conversation, I was moved by the compassion she had for her friend. I learned the call was a friend who was patiently waiting for God to call her husband of 59 years to his eternal home. I immediately thought of all the friends and loved ones we've lost over the years. Most recently a long time family friend. Initially my heart was broken for those like myself who were grieving his departure. He was a fun guy who loved his family and Jesus in such a deep way. At his funeral, I was listening to the stories told about his life when my thoughts drifted. I began thinking about the time I too would be facing a transition into my Eternal home. I believe we all have thoughts of our eventual fate. However, I was immediately thankful to be a Christian. As a Christian we do not go from life to death but from death to life. It will be a spectacular day!
Heather and I have taken several incredible vacations in the past. I can recall the build up excitement. It would grow as time for departure came nearer.  We would spend time learning about what we're going to do when we arrived to the destination and what the destination is like to those who have never been before. Still, it was hard to imagine our arrival at a place where we had only dreamed and studied about. What troubles me is the contrast of the build up of a heavenly destination. I study about it, I dream about, I say I look forward to it.  I stand on the promises of it from God's word. Yet, if we are honest there are many of us that never have the same build up and dreaming of that day quite like we do an earthly vacation. What makes this difference?
This painting is the third in a series based on the famous Psalm 23. In the begin of the Psalm it says the simple phrase, "I shall not want".  David starts with I don't need anything else. He says the Lord is his shepherd guiding his ways from the life here on earth to the day in eternity.
The other morning I read this…
"Do not love this world nor the things it offers you, for when you love the world, you do not have the love of the Father in you.
For the world offers only a craving for physical pleasure, a craving for everything we see, and pride in our achievements and possessions. These are not from the Father, but are from this world.
And this world is fading away, along with everything that people crave. But anyone who does what pleases God will live forever." 1 John 2:15-17
As I ponder the final days of life here on earth only God knows the answers to my thoughts and I will leave them in his great care. But one thing I do know - we as Christians should be far more excited about Heaven than any destination reached here on earth. Sure, it's hard to leave the things of earth and the ones we love but I want the the excitement and the anticipation of standing in glory with Jesus to be my most spectacular event. And this day will come because Christ undeservingly saved me.
So how do we answer that question about what makes the difference in how we handle our inevitable destiny?
Interesting enough the first part of the chapter in 1 John starts with how to love. If we want to prepare our hearts for the day we meet Jesus it starts with the same thing He demonstrated to us. LOVE! He commanded us to not to love ourselves, nor to love things,  nor to love things that were safe, nor love achievements or possessions. Instead He said to love the Father and Son to grasp how much we are loved. Enough that God sent His son to save us. David had faith and understood the love of the Father. He was guided by this love and so he says, "The Lord is my shepherd, I shall not want."
Desire-less the things of this world.
Desire Jesus.
"the angel showed me the river of the water of life, bright as crystal, flowing from the throne of God and of the Lamb through the middle of the street of the city; also, on either side of the river, the tree of life with its twelve kinds of fruit, yielding its fruit each month. The leaves of the tree were for the healing of the nations. No longer will there be anything accursed, but the throne of God and of the Lamb will be in it, and his servants will worship him. They will see his face, and his name will be on their foreheads. And night will be no more. They will need no light of lamp or sun, for the Lord God will be their light, and they will reign forever and ever."
Revelation 22:1-5 ESV
---
More from this collection