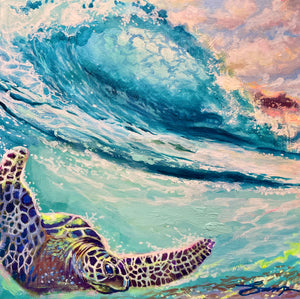 Day Five Art Gallery
The Water Table
Regular price
$700.00
$0.00
The Water Table
16x16 Acrylic on Cavas
This morning, I sat across the table from my bride. She said, "You are trying to figure something out. What is it?" There was a long moment of silence. Interestingly enough, I was trying to figure out what I needed to figure out. Whatever stage life has for me, most of my days, I'm trying to figure life out. Much like the ocean's waves, days rise and fall constantly. Who besides the Lord knows our days? Indeed, not I!
The sea turtle in my painting is coasting right on the cusp of the water with a dividing line showing the visible water table. In the picture, you can see above and below the line. This is the point that I will refrain from sharing my thoughts that correlate with the image, so it gives way to deeper introspection for the viewer.
Hebrews 4:16 tells us, "Therefore let us draw near with confidence to the throne of grace so that we may receive mercy and find grace to help in time of need." Friends, the Lord offers us an invitation to come and sit at the table. We were not designed in our human power or capacity to figure out a Holy God, and He alone holds every day in His hands. So instead of striving to figure out today or tomorrow, all He asks of us is to allow Him to carry us to the table. His table. For further contemplation, listen to the song Carried to the Table by Leeland—link provided below.
https://youtu.be/6jjpK7Kn2IM
---
More from this collection