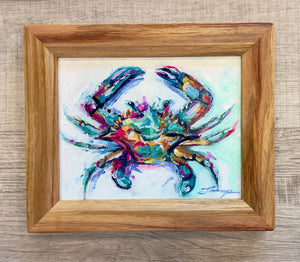 Day Five Art Gallery
Tested and True
Regular price
$333.00
$0.00
7.75"x9.75" Acrylic on board
Handcrafted Canarywood frame
 
Watch and pray lest you enter into temptation. The spirit, indeed, is willing, but the flesh is weak. Matthew 26:41:-45
If I have learned anything about myself as a Christian, it is that salvation alone does not change my character flaws. That takes testing! Sometimes, I will fail the test several times before I realize the problem is a character flaw within me, not them.
Jesus, a sinless man, told his disciples three times to stay awake while he went away to pray. When he returned, all three times, they had fallen asleep. Jesus didn't react to their behavior with hurtful words or cut them off from doing life with Him. Instead, He responded by praying to His Father all three times. Christ did this time and time again throughout his ministry. Even on the cross, he looked upon the crowd who mocked and nailed him to the wood beams and asked God to forgive them, for they did not know what they were doing. What a prayer! What a savior! What a friend!
I want to be the kind of friend who looks over every offense! And when the pain is too much to bear on my own, I pray to God. Not the people.
People who do not have an ongoing prayer life with Christ will live out of their flesh when a conflict with another person arises. Our flesh will fail, causing us to do two things: close our hearts immediately and open our mouths. We go from being a ministry to misery.
When we pray with God, we take our pain to him, and he bears what we bear in pain. And from that time with the Lord, a spiritual love overflows. The love Christ pours into us when he looks upon our sinfulness will be an overflow to love those who hurt us. Prayer is how we love our enemies. It does not mean that the people will act better. It means we will react to the people as Christ reacts.
---
More from this collection