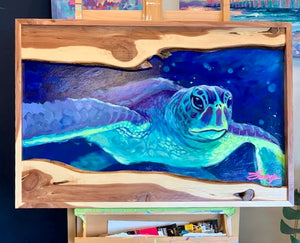 Day Five Art Gallery
Never Forget
Regular price
$2,200.00
$0.00
SIZE: 24x36
MEDIUM: ACRYLIC ON BOARD
FRAME: Cedar live edge custom built by The Little Egret Workshop.
STORY OF THE SEA & THE SAVIOR: Never Forget
Psalm 104: 24-25
How many are your works, Lord!
In wisdom you made them all; the earth is full of your creatures.
There is the sea, vast and spacious, teeming with creatures beyond number—
living things both large and small.
Did you know sea turtles have an extraordinary memory? For most of us, we can't remember much about our life before the age of three. However, a sea turtle remembers the sand it first traversed with it's brother's and sister's. From the breaking out of the egg to their first voyage of the vast sea, the soon to be mature female sea turtles will eventually swim back to the same area within 40-50 miles. There they will lay their eggs year after year.
However, their journey isn't by memory alone. A magnetic force draws the turtles out of the deep waters back to the dry land from which they were born. That's a miracle that can only be designed by a sovereign God!
My personal journey in life hasn't been that different than the sea turtles. I will be the first to admit I have often times wandered deep in the ways of the world. Exploring places God never intended for me I drifted away from my sweet Jesus. Eventually, I no longer recognize Him, myself, or anything around me. How did I get so lost so fast? I let other things take precedence over my time with studying His Word, personal worship, and true repentance of my own sins. My praise and prayers were replaced with performance and people pleasing. Eventually, my eyes were no longer set on the One who created me. Instead, I focused on material things and people to fulfill the deep needs in my heart that can only be fulfilled by Jesus. In those dark moments I find myself focused on me forgetting the miraculous birth into the new life with Christ and how he forgave me. I forget how he forged my faith by answering prayers in unbelievable ways. How he met needs when I was worried, knowing I could never meet them on my own. How God chose to bless me in spite of what I had done or how I struggle with my own sin nature. It is always the miracles of faith between me and God that pull me back to my one true home - HIM.
Eventually the pain of life becomes too great and my study of His Word and prayers return. So do the memories of who He is. Why did I forget? Do we really forget? As believer's I do not believe so. Just like the sea turtle and all of the other creature's great and small, it is more than memory. We are all designed to journey through life drawing near to God!
In the Bible God did something magnificent for His people. Not once but many times. The spiritual navigation beacon of their souls rang loudly when the sufferings of their own sin and wandering led them astray. They were lost and both God and His people knew it. Sitting on the mercy seat He heard their cry and rescued them! Afterwards, God makes a profound statement, "Do not forget what I have done."
As believer's of Jesus Christ, we have a beacon inside each one of us. It's a spiritual beacon. A holy draw to have community with the Creator of all things. For one to not wander into the dark abyss of this world we must stay connected to God's Word listening to the promises of God hidden in our heart which is our beacon of eternal light. Being spiritually attentive to God, the Creator of all things, never forgetting what He has done for us on the cross through His one and only son, our redeeming Savior, Jesus Christ.
2 Peter 1:3-15
---
More from this collection