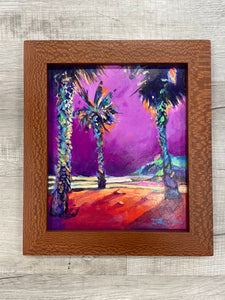 Day Five Art Gallery
Convivium
Regular price
$350.00
$0.00
10.5X12.5 - Acrylic on board, Leopard wood frame.

The word Convivium means "Banquet" or "The Gathering Place" in Latin. It is where we get the English word convene. During our time in Israel, Heather headed back to the hotel room while I decided to join a few others on a night walk for an ice cream. It was on that walk I noticed three tall trees gathered on the waterfront. It was so beautiful, I snapped a photo with my phone.
I spent some time at the easel worshipping the Lord yesterday. The photo was the piece on my heart to paint. I am glad there will come a day when no more darkness looms over us. Instead, we as Christians will all be together in God's gathering place - the Banquet table.
---
More from this collection