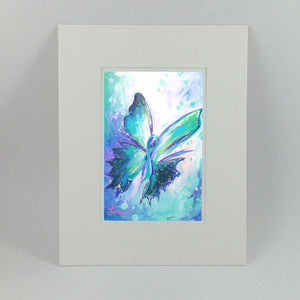 Day Five Art Gallery
Ovarian Cancer Print
Regular price
$30.00
$0.00
Artist signed matted print ovarian cancer butterfly. Each print is matted with a white mat board with a backer and sealed in a protective sleeve. The size listed is based on the finished mat size. 
Fighting With Joy.
Romans 12:12 tells us to be joyful in hope, patient in affliction, and faithful in prayer. Along with myself, the entire Steele family and all of the ovarian cancer families fighting with joy, we offer each of you a teal heart thank you for your continued encouragement, support, and prayers.
Glenn Lamp and his wife are very close friends of the family. Glenn being a full-time artist created and painted the beautiful teal Ovarian Cancer Butterfly especially for me. While I have the original painting that hangs in our home, a larger reproduction hangs in the Levine Cancer Institute in Charlotte, NC. The teal butterfly was painted to help raise OC awareness and all of the donations received for prints and other products will be solely used to help support the Fighting With Joy Foundation. Its purpose is to show each of us how Jesus takes the difficulties, the unknowns and challenges of life to create an incredible masterpiece that glorifies Christ. We are to be confident that Jesus will continue to paint our lives with masterful strokes until we stand in His presence, a perfect masterpiece.
To anyone who has been touched by cancer, allow me to invite you to learn more about my story. May it, along with Glenn's painting, be an encouragement and reminder of God's intentional work in our lives.
Fighting With Joy —
Heather
A few of my favorite places:
tealbutterflychallenge.com
tealheels.org
sherrystrong.org
lydiaslegacy.com
tealdiva.org
helpkeepasisteralive.org
https://canceremotions.wordpress.com/
http://www.gctf.org.nz Granulosa Cell Tumor Research Foundation (the only foundation for the rare type of GCT Ovarian Cancer, like I have)
www.ovarian.org NOVA
www.ovariancancer.org OCNA
---
More from this collection